Just a note: Community Notes will be updated Monday – Friday.
COMMUNITY NOTES :   
The next regular meeting of the Daniels County Transportation Advisory Committee will be Wednesday, May 1st at 12:00 noon at the Daniels Memorial Hospital Conference room. For more information, call Colleen Pankratz at 228-8744
Due to a frozen line, the Bulk Water Station is not working. We will be going back to the honor system temporarily and filling from the hydrant by the Saddle Club. Please call City Hall with any questions. 487-5581
SPRING INTO SUMMER AND A HEALTHIER YOU WITH FREE DIABETES CLASSES! DANIELS COUNTY SENIOR CENTER 201 MAIN STREET IN SCOBEY, MT. CLASSES MEET ON TUESDAYS MAY 1, 8, 15, 22, 29, AND JUNE 5 AT 2:00PM TO 4:00PM. TO REGISTER, PLEASE CALL 406-487-5560
Catholic Fall Rummage Sale- this Saturday, April 28th at St. Philips Catholic Center, 400 Timmons ST. in Scobey: Doors open at 11:00 am and lunch will be available. There are many treasures and clothes to choose from.
THERE IS A LOST LG SLIDE PHONE THAT IS LOOKING TO BE FOUND. IF FOUND PLEASE CALL JACKIE AND RANDY SCHONECK AT 1-406-286-5225.
The Beacon Community Foundation Reiner Music Camp Scholarship Applications are due April 30th, 2018.  You can get your applications from the school music department or by e-mailing beacon@nemont.net. 
Independence Bank's drive thru will be closed Wednesday, April 25 through Friday, April 27. If you have banking between 3-4 pm or are unable to physically enter the bank, please call 487-2282 to make arrangements.
A REMINDER BASEBALL CLEAN UP IS THIS SUNDAY APRIL 29TH AT 2:00PM!! BRING GLOVES, RAKES AND SHOVELS. ALSO, PONEYBALL STARTS TUESDAY MAY 1ST AT 5:30 AND TBALL STARTS WEDNESDAY MAY 2ND AT 5:30PM.
A BLACK KITTIE WAS FOUND BETWEEN CAHILLS AND THE FERTILIZER PLANT. IF THIS IS YOUR KITTIE PLEASE CALL CLARA AT 406-230-0928. IF YOU CANT GET A HOLD OF CLARA RIGHT AWAY KEEP TRYING, THEY ARE TRAVELING TODAY.
There is a Red Cross Blood Drive at Opheim School on Thursday, April 26, from 12:30 – 6:00pm.
Scobey School's Art Show and Auction will be Tuesday, May 1 in the small gym, from 4- 8pm.
The city crew will be flushing hydrants this week. The west side will be done Wednesday night, the east side will be done Thursday night. Please be aware, this will cause rusty water.
 School News:
April 3rd – 30th Lunch Menu.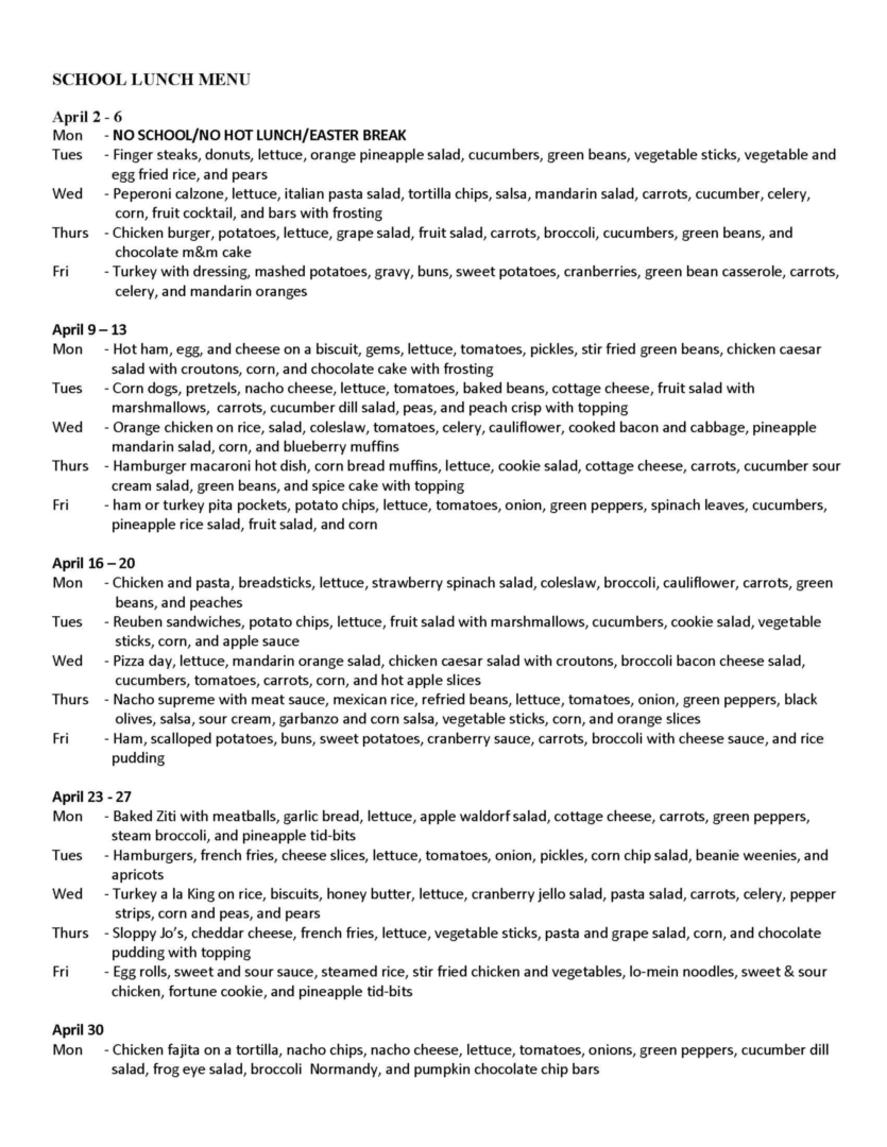 OBITUARIES:
 Robert "Bob" Dean Schneekloth was born March 29, 1937. Bob, 81, left this earth peacefully on April 5th, 2018 from complications following surgery. As his wishes he went back to college as his body has been donated to the Montana State University Medical Program. Memorial services were held in Billings on Monday April 9th at the Billings First Alliance Church.
Marvin Leroy Barnby, 90, passed away in Nampa Idaho, Tuesday, April 4, 2018. He was born August 1, 1927 to George and Francis Barnby. Services will be at a later date.